alfentanil ampule
Alfentanil 500 micrograms/ml
solution for injection
(1 mg in 2 ml)
Alfentanil belongs to a class of medicines called
opioids, which relieve or prevent pain. Alfentanil is a
strong painkiller which has a very rapid effect. Alfentanil
is used for surgical procedures.
You can now order Alfentanil Injection Solution
Description
Size Guide
Reviews (0)
Description
1. WHAT ALFENTANIL IS AND WHAT IT IS
USED FOR
Alfentanil belongs to a class of medicines called
opioids, which relieve or prevent pain. Alfentanil is a
strong painkiller which has a very rapid effect. Alfentanil
is used for surgical procedures.
Alfentanil is used in adults for:
– Short procedures and outpatient surgery (day case)
– Medium and long procedures when given as an
injection and followed by additional doses or by
continuous infusion
Alfentanil is used in neonates, infants and children:
– for induction of anaesthesia
– as a pain killer during anaesthesia and for both short
and long surgical procedures
At very high doses, Alfentanil may be used to induce
unconsciousness (anaesthesia) in patients with
assisted breathing (artificially ventilated patients).
This medicine has been prescribed to you and should
not be given to anyone else.
Opioids can cause addiction and you may get
withdrawal symptoms if you stop receiving it suddenly.
Your prescriber should have explained how long you
will be receiving it for and when it is appropriate to stop,
how to do this safely.
2. WHAT YOU NEED TO KNOW BEFORE YOU
ARE GIVEN ALFENTANIL
You should NOT be given Alfentanil if:
– you are allergic (hypersensitive) to Alfentanil, other
strong painkillers (opioid analgesics), or any of the
other ingredients (see list of ingredients in Section 6).
– you suffer from any illness causing breathing
difficulties. You may only be given Alfentanil if your
breathing is helped by a machine called a ventilator.
– you are taking any of the antidepressant medicines
known as monoamine oxidase inhibitors (MAOIs) or
have taken them during the last two weeks.
Alfentanil should not be given during labour or
before the cord is clamped during Caesarean
section.
Warnings and precautions
Talk to your doctor or nurse before you receive
Alfentanil if you:
– have ever had a head injury – Alfentanil may influence
the clinical signs of patients with head injuries
– have ever had lung disease or other breathing
difficulties
– have ever had a liver or kidney disorder
– have ever had a thyroid disorder
– are or have ever been addicted to opioids, alcohol,
prescription medicines, or illegal drugs
– have previously suffered from withdrawal symptoms
such as agitation, anxiety, shaking or sweating, when
you have stopped taking alcohol or drugs
– feel you need to take more of Alfentanil to get the
same level of pain relief, this may mean you are
becoming tolerant to the effects of this medicine or
are becoming addicted to it. Speak to your prescriber
who will discuss your treatment and may change your
dose or switch you to an alternative pain reliever.
Receiving this medicine regularly, particularly for a long
time, can lead to addiction. Your prescriber should have
explained how long you will be taking it for and when it
is appropriate to stop, how to do this safely.
Rarely, increasing the dose of this medicine can make
you more sensitive to pain. If this happens, you need to
speak to your prescriber about your treatment.
Addiction can cause withdrawal symptoms when you
stop receiving this medicine. Withdrawal symptoms
can include restlessness, difficulty sleeping, irritability,
agitation, anxiety, feeling your heartbeat (palpitations),
increased blood pressure, feeling or being sick,
diarrhoea, loss of appetite, shaking, shivering or
sweating. Your prescriber will discuss with you how
to gradually reduce your dose before stopping the
medicine. It is important that you do not stop receiving
the medicine suddenly as you will be more likely to
experience withdrawal symptoms.
Opioids should only be used by those they are
prescribed for. Do not give your medicine to anyone
else. Taking higher doses or more frequent doses of
opioid, may increase the risk of addiction. Overuse and
misuse can lead to overdose and/or death.
Your doctor will carefully monitor the amount of
Alfentanil you are given.
Special monitoring
– Alfentanil may make you breathe more slowly. Your
breathing will be carefully monitored until it returns to
normal
– Your blood p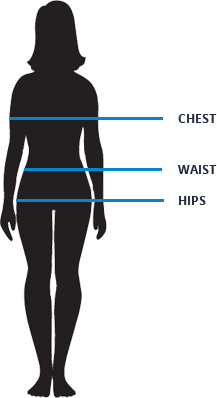 | size | chest(in.) | waist(in.) | hips(in.) |
| --- | --- | --- | --- |
| XS | 34-36 | 27-29 | 34.5-36.5 |
| S | 36-38 | 29-31 | 36.5-38.5 |
| M | 38-40 | 31-33 | 38.5-40.5 |
| L | 40-42 | 33-36 | 40.5-43.5 |
| XL | 42-45 | 36-40 | 43.5-47.5 |
| XXL | 45-48 | 40-44 | 47.5-51.5 |