Lortab 10/325mg (hydrocodone bitartrate and acetaminophen)
Lortab
Generic name: acetaminophen and hydrocodone
Brand name: Lortab
Drug class: Narcotic analgesic combinations
Hydrocodone may be habit-forming, even at regular doses. Never share this medicine with another person, especially someone with a history of drug abuse or addiction. Lortab 10/500 tablets (Hydrocodone Bitartrate and Acetaminophen Tablets, USP, 10 mg/500 mg) contain hydrocodone bitartrate 10 mg and acetaminophen 500 mg. They are supplied as pink, capsule-shaped, bisected tablets, debossed "ucb" on one side and "910" on the other side, in containers of 100 tablets.
Description
Size Guide
Reviews (2)
Description
Buy Lortab (hydrocodone bitartrate and acetaminophen).
Lortab contains a combination of acetaminophen and hydrocodone. Hydrocodone is an opioid pain medication. An opioid is sometimes called a narcotic. Acetaminophen, also called Tylenol, is a less potent pain reliever that increases the effects of hydrocodone. Lortab is used to relieve moderate to severe pain.
Before taking Lortab
You should not use Lortab if you are allergic to acetaminophen (Tylenol) or hydrocodone, or if you have recently used alcohol, sedatives, tranquilizers, or other narcotic medications.
Some medicines can interact with hydrocodone and cause a serious condition called serotonin syndrome. Be sure your doctor knows if you also take medicine for depression, mental illness, Parkinson's disease, migraine headaches, serious infections, or prevention of nausea and vomiting. Ask your doctor before making any changes in how or when you take your medications.
Do not use Lortab if you have taken a MAO inhibitor in the past 14 days. A dangerous drug interaction could occur. MAO inhibitors include isocarboxazid, linezolid, phenelzine, rasagiline, selegiline, and tranylcypromine.
To make sure Lortab is safe for you, tell your doctor if you have:
liver disease, cirrhosis, or if you drink more than 3 alcoholic beverages per day;
a history of alcoholism or drug addiction;
diarrhea, inflammatory bowel disease, bowel obstruction, severe constipation;
kidney disease;
low blood pressure, or if you are dehydrated;
a history of head injury, brain tumor, or stroke;
asthma, COPD, sleep apnea, or other breathing disorders; or
if you use a sedative like Valium (diazepam, alprazolam, lorazepam, Ativan, Klonopin, Restoril, Tranxene, Versed, Xanax, and others).
Hydrocodone may be habit-forming, even at regular doses. Never share this medicine with another person, especially someone with a history of drug abuse or addiction.
DOSAGE AND ADMINISTRATION
Dosage should be adjusted according to severity of pain and response of the patient. However, it should be kept in mind that tolerance to hydrocodone can develop with continued use and that the incidence of untoward effects is dose related.
The usual adult dosage is one tablet every four to six hours as needed for pain. The total daily dosage should not exceed 6 tablets.
PRECAUTIONS
General: Special Risk Patients: As with any narcotic analgesic agent, Lortab 10 (hydrocodone bitartrate and acetaminophen tablets) /500 tablets should be used with caution in elderly or debilitated patients, and those with severe impairment of hepatic or renal function, hypothyroidism, Addison's disease, prostatic hypertrophy or urethral stricture. The usual precautions should be observed and the possibility of respiratory depression should be kept in mind.
Cough Reflex: Hydrocodone suppresses the cough reflex; as with all narcotics, caution should be exercised when Lortab 10 (hydrocodone bitartrate and acetaminophen tablets) /500 tablets are used postoperatively and in patients with pulmonary disease.
Carcinogenesis, Mutagenesis, Impairment of Fertility: No adequate studies have been conducted in animals to determine whether hydrocodone or acetaminophen have a potential for carcinogenesis, mutagenesis, or impairment of fertility.
Pregnancy:
Teratogenic Effects: Pregnancy Category C: There are no adequate and well-controlled studies in pregnant women. Lortab 10 (hydrocodone bitartrate and acetaminophen tablets) /500 tablets should be used during pregnancy only if the potential benefit justifies the potential risk to the fetus.
Nonteratogenic Effects: Babies born to mothers who have been taking opioids regularly prior to delivery will be physically dependent. The withdrawal signs include irritability and excessive crying, tremors, hyperactive reflexes, increased respiratory rate, increased stools, sneezing, yawning, vomiting and fever. The intensity of the syndrome does not always correlate with the duration of maternal opioid use or dose. There is no consensus on the best method of managing withdrawal.
Labor and Delivery: As with all narcotics, administration of this product to the mother shortly before delivery may result in some degree of respiratory depression in the newborn, especially if higher doses are used.
Nursing Mothers: Acetaminophen is excreted in breast milk in small amounts, but the significance of its effects on nursing infants is not known. It is not known whether hydrocodone is excreted in human milk. Because many drugs are excreted in human milk and because of the potential for serious adverse reactions in nursing infants from hydrocodone and acetaminophen, a decision should be made whether to discontinue nursing or to discontinue the drug, taking into account the importance of the drug to the mother.
Pediatric Use: Safety and effectiveness in the pediatric population have not been established.
Geriatric Use: Clinical studies of hydrocodone bitartrate and acetaminophen tablets did not include sufficient numbers of subjects aged 65 and over to determine whether they respond differently from younger subjects. Other reported clinical experience has not identified differences in responses between the elderly and younger patients. In general, dose selection for an elderly patient should be cautious, usually starting at the low end of the dosing range, reflecting the greater frequency of decreased hepatic, renal, or cardiac function, and of concomitant disease or other drug therapy.
Hydrocodone and the major metabolites of acetaminophen are known to be substantially excreted by the kidney. Thus the risk of toxic reactions may be greater in patients with impaired renal function due to the accumulation of the parent compound and/or metabolites in the plasma. Because elderly patients are more likely to have decreased renal function, care should be taken in dose selection, and it may be useful to monitor renal function.
Hydrocodone may cause confusion and over-sedation in the elderly; elderly patients generally should be started on low doses of hydrocodone bitartrate and acetaminophen tablets and observed closely.
OVERDOSE
Following an acute overdosage, toxicity may result from hydrocodone or acetaminophen.
Signs and Symptoms:
Hydrocodone: Serious overdose with hydrocodone is characterized by respiratory depression (a decrease in respiratory rate and/or tidal volume, Cheyne-Stokes respiration, cyanosis) extreme somnolence progressing to stupor or coma, skeletal muscle flaccidity, cold and clammy skin, and sometimes bradycardia and hypotension. In severe overdosage, apnea, circulatory collapse, cardiac arrest and death may occur.
Acetaminophen: In acetaminophen overdosage: dose-dependent, potentially fatal hepatic necrosis is the most serious adverse effect. Renal tubular necrosis, hypoglycemic coma and thrombocytopenia may also occur.
Early symptoms following a potentially hepatotoxic overdose may include: nausea, vomiting, diaphoresis, and general malaise. Clinical and laboratory evidence of hepatic toxicity may not be apparent until 48 to 72 hours post-ingestion.
In adults, hepatic toxicity has rarely been reported with acute overdoses of less than 10 grams, or fatalities with less than 15 grams.
Treatment: A single or multiple overdose with hydrocodone and acetaminophen is a potentially lethal polydrug overdose, and consultation with a regional poison control center is recommended.
Immediate treatment includes support of cardiorespiratory function and measures to reduce drug absorption. Vomiting should be induced mechanically, or with syrup of ipecac, if the patient is alert (adequate pharyngeal and laryngeal reflexes). Oral activated charcoal (1 g/kg) should follow gastric emptying. The first dose should be accompanied by an appropriate cathartic. If repeated doses are used, the cathartic might be included with alternate doses as required. Hypotension is usually hypovolemic and should respond to fluids. Vasopressors and other supportive measures should be employed as indicated. A cuffed endo-tracheal tube should be inserted before gastric lavage of the unconscious patient and, when necessary, to provide assisted respiration.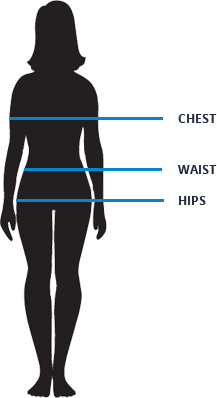 | size | chest(in.) | waist(in.) | hips(in.) |
| --- | --- | --- | --- |
| XS | 34-36 | 27-29 | 34.5-36.5 |
| S | 36-38 | 29-31 | 36.5-38.5 |
| M | 38-40 | 31-33 | 38.5-40.5 |
| L | 40-42 | 33-36 | 40.5-43.5 |
| XL | 42-45 | 36-40 | 43.5-47.5 |
| XXL | 45-48 | 40-44 | 47.5-51.5 |