Naproxen (Aleve)
Generic name: naproxen
Brand name: Aleve, EC-Naprosyn, Flanax Pain Reliever, Midol Extended Relief, Naprelan,
Naproxen is also available in combination with other medications under the following brand names: Aleve PM, Aleve-D Sinus and Cold, Treximet, and Vimovo
Drug class: Nonsteroidal anti-inflammatory drugs
Naproxen belongs to a class of medications called nonsteroidal anti-inflammatory drugs NSAIDs. NSAIDs are a type of medications that work by blocking your body's production of certain natural substances that cause inflammation.
Naproxen is available under the following different brand names: Aleve, EC Naprosyn, Anaprox, Anaprox DS, Naprosyn, Naprox Sodium, Naproxen EC, Naproxen SR, Naprelan, and Menstridol.
Dosages of Naproxen:
Adult and pediatric:
Tablet
220 mg (over the counter)
250 mg
275 mg
375 mg
500 mg
550 mg
Tablet, delayed release
Tablet, extended release
Capsule
Oral Suspension
Dosage Considerations – Should be Given as Follows:
Adult Dosage Considerations
Pain
500 mg orally initially, then 250 mg orally every 6-8 hours or 500 mg orally every 12 hours as needed, not to exceed 1250 mg/day naproxen base on day 1, subsequent daily doses should not exceed 1000 mg naproxen base.
Extended release 750-1000 mg orally every day, may temporarily increase to 1500 mg/day if tolerated well and clinically indicated.
Description
Size Guide
Reviews (0)
Description
Buy Naproxone 220mg.
Naproxen is used to relieve pain from various conditions such as headache, muscle aches, tendonitis, dental pain, and menstrual cramps. It also reduces pain, swelling, and joint stiffness caused by arthritis, bursitis, and gout attacks. This medication is known as a nonsteroidal anti-inflammatory drug (NSAID). It works by blocking your body's production of certain natural substances that cause inflammation.If you are treating a chronic condition such as arthritis, ask your doctor about non-drug treatments and/or using other medications to treat your pain.Check the ingredients on the label even if you have used the product before. The manufacturer may have changed the ingredients. Also, products with similar names may contain different ingredients meant for different purposes.
If you are taking the over-the-counter product, read all directions on the product package before taking this medication. If your doctor has prescribed this medication, read the Medication Guide provided by your pharmacist before you start taking naproxen and each time you get a refill. If you have any questions, ask your doctor or pharmacist.
Take this medication by mouth as directed by your doctor, usually 2 or 3 times a day with a full glass of water (8 ounces/240 milliliters). Do not lie down for at least 10 minutes after taking this drug. To prevent stomach upset, take this medication with food, milk, or an antacid.
The dosage is based on your medical condition and response to treatment. To reduce your risk of stomach bleeding and other side effects, take this medication at the lowest effective dose for the shortest possible time. Do not increase your dose or take this drug more often than directed by your doctor or the package label. For ongoing conditions such as arthritis, continue taking this medication as directed by your doctor.
For certain conditions (such as arthritis), it may take up to two weeks of taking this drug regularly until you get the full benefit.
If you are taking this drug "as needed" (not on a regular schedule), remember that pain medications work best if they are used as the first signs of pain occur. If you wait until the pain has worsened, the medication may not work as well.
If your condition lasts or gets worse, or if you think you may have a serious medical problem, get medical help right away. If you are using the nonprescription product to treat fever, consult the doctor right away if the fever worsens or lasts more than 3 days.
If your doctor has directed you to use this medication, remember that he or she has judged that the benefit to you is greater than the risk of side effects. Many people using this medication do not have serious side effects.
This drug may rarely cause serious (possibly fatal) liver disease. Get medical help right away if you have any symptoms of liver damage, including: nausea/vomiting that doesn't stop, loss of appetite, stomach/abdominal pain, yellowing eyes/skin, dark urine.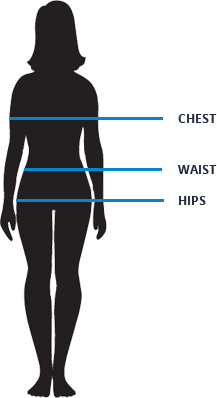 | size | chest(in.) | waist(in.) | hips(in.) |
| --- | --- | --- | --- |
| XS | 34-36 | 27-29 | 34.5-36.5 |
| S | 36-38 | 29-31 | 36.5-38.5 |
| M | 38-40 | 31-33 | 38.5-40.5 |
| L | 40-42 | 33-36 | 40.5-43.5 |
| XL | 42-45 | 36-40 | 43.5-47.5 |
| XXL | 45-48 | 40-44 | 47.5-51.5 |